Nowadays, LED lighting products are playing a significantly important role in the lighting industry. And the LED flexible strip light is one of the most popular ones. Its use is rapidly rising in modern lighting design around the world. A large number of architects and lighting designers are implementing this light into residential, commercial, and industrial projects. There are many options on the market for LED strip lights. However, there is no clear-cut standard for how to choose the best one. Helpfully, this passage will introduce this light in detail. With this passage, we believe you will know more about this light and make better purchase choices.
What Is An LED Flexible Strip Light
Unlike other LED lighting products, the LED flexible strip light comes in versatile forms. There are many variants and exceptions, but for the most part, LED strip lights to possess the following characteristics:
1. They consist of numerous individual LED emitters mounted onto a slim, flexible circuit board;
2. They function on DC electricity.
3. They come in a vast array of brightness and color.
4. They ship in a long reel (typically 16 feet/ 5 meters). According to application demands, they may be trimmed.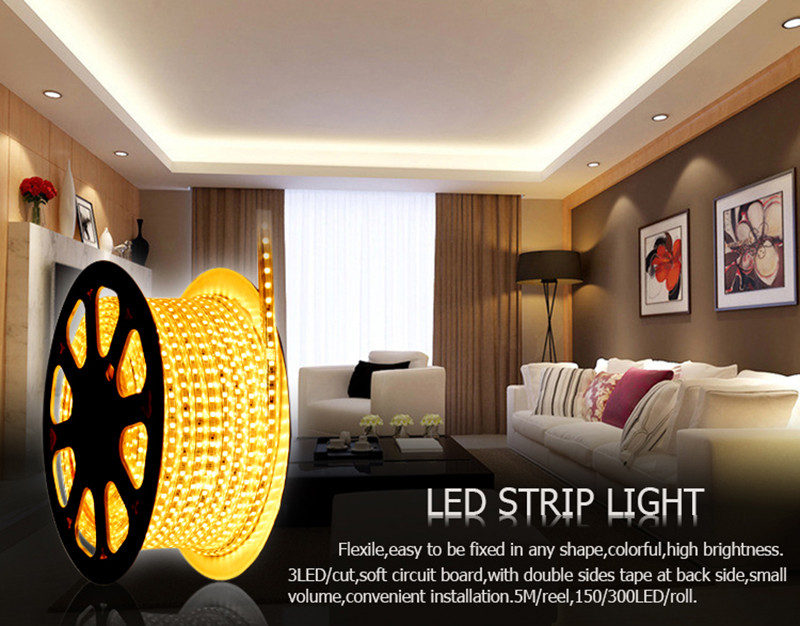 Anatomy of LED Flexible Strip Light
As knowing the components of LED lighting products is the first step for better purchase choice, you are supposed to know every part of an LED flexible strip light. LED strip lights are generally half an inch (10-12 mm) in diameter, as well as 16 feet (5 meters) or more in length. They can be cut with a pair of scissors across the cutlines.
LEDs are mounted across the strip, commonly in densities of 18-36 LEDs per foot (60-120 per meter). LEDs' quality and color determine the service life and the lighting color of this LED strip light.
The backside of the LED strip includes pre-applied double-sided adhesive. After peeling off the liner, the LED strip can be mounted to virtually any surface, even curved and uneven surfaces.
The Features of LED Flexible Strip Light
1.Brightness
The brightness of LED lighting products is determined by metric lumens. Unlike incandescent bulbs, the different LED lights could have different heights of efficacy. Thus a wattage can not accurately determine the actual light output.
Remarkably, an LED flexible strip light's brightness is primarily affected by three factors: light output and efficiency per LED emitter; the number of LEDs per foot; the power draw of the LED strip per foot. And the brightness is normally clarified in lumens per foot (or meter). A superior-quality LED strip light always provides at least 450 lumens per foot (1500 lumens per meter). That means it provides the same amount of light output per foot as a traditional T8 fluorescent lamp.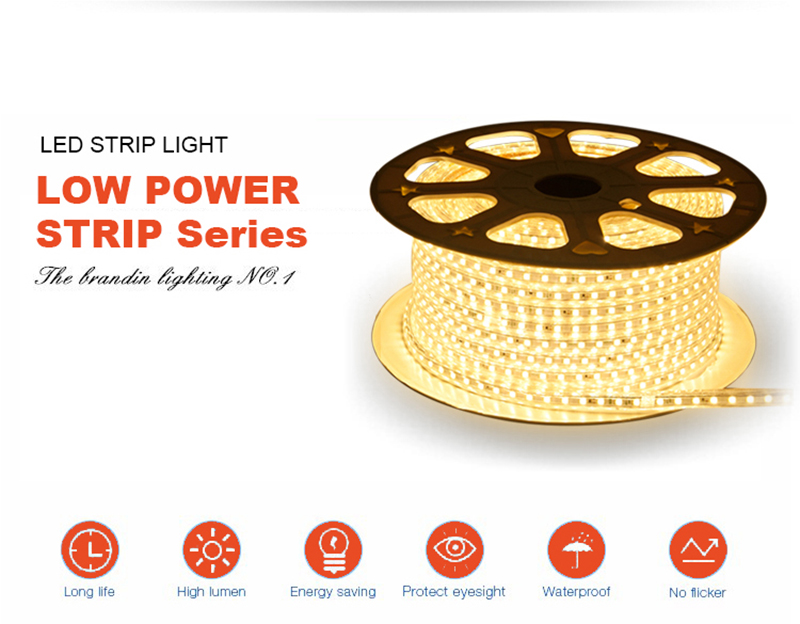 2.LED Density & Power Draw
You may encounter various LED emitter names, such as 2835, 3528, 5050, or 5730. Don't worry too much about it, because the most important thing in the LED flexible strip light is the number of LEDs per foot and the power consumption per foot.
Firstly, LED density is important to determine the distance between LEDs and whether there are visible hot spots and dark spots between LED emitters. The higher density of 36 LEDs per foot (120 LEDs per meter) will generally provide the best, most evenly distributed illumination. LED emitters are the most expensive components in the manufacture of LED strips, so LED density differences must be considered when comparing the prices of LED strip lights. Secondly, the power consumption per foot of LED strips is also an important consideration. High-quality LED strips are supposed to deliver 4 watts per foot or more (15 W/m). Finally, a calculation - dividing the watts per foot by the LED density per foot - needed to be performed to check if each LED is overdriven. For LED strip lights, the power draw of each LED is preferably no more than 0.2 watts.
3. Color Options
You may know LED lighting products can be made for many color options. Considering that, it's not surprising that the LED flexible strip light is available in white or in a variety of colors. The white light is often the most useful and popular choice for indoor lighting applications. As for color LED strip lights, there are two main types: monochromatic strip lights and color strip lights. The monochromatic LED strip light emits only one color. The color-changing LED strip light consists of multiple color channels on a single LED strip. The most basic types will include red, green, and blue channels (RGB), which can be dynamically mixed to create a variety of colors.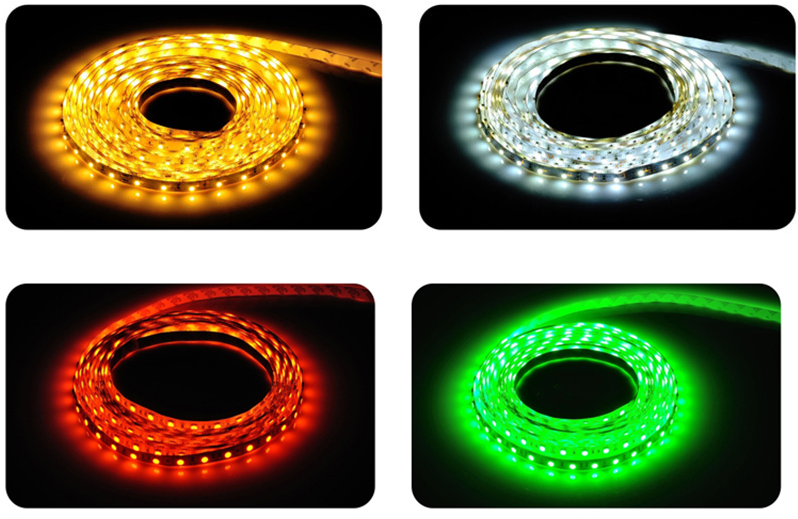 4. Aluminum Channels & Heatsinking
Although LED strips are bare circuit board assemblies, they are typically mounted in aluminum channels to improve their aesthetics. The aluminum channel is usually a strip of extruded aluminum, which can be shaped and sized according to specific needs. LED strip lights require effective thermal management to operate reliably. Therefore, a high-quality LED flexible strip light is designed to last for tens of thousands of hours without excessive heat generation. During operation, the light may become hot, but the temperature rise is much lower than the temperature limits of the LED and board components. The aluminum channel helps to dissipate the heat from the LED strip, but in most cases the aluminum channel is not required for thermal management.
How to Distinguish High-quality LED Flexible Strip Light
Many options, like other LED lighting products, in the market, sometimes, it can be difficult to choose the LED flexible strip light that has high performance and longevity. The follows are some tips for you.
Circuitboard Composition & Quality - The quality and specifications of the underlying circuit boards are critical to high power LED strips. Since each part will flow high current, the board must have enough copper material. It is best to choose LED strips with at least 2 ounces (ideally 4 ounces) of copper materials to ensure that the board can withstand high power.
LED Quantity & Quality - The LED emitter directly determines the efficiency, quality and stability of the light output. Look for the LED flexible strip light with strict quality control and specifications on the LED emitters, and note that the LED strips claim high power despite the small number of LEDs, as this may indicate that the LED emitters are overdriven, leading to premature failure.
LED Strip Surface - High quality LED strip lights are usually coated with a layer of white paint to help increase the reflectivity of the light and increase the overall light output. While an inferior LED flexible strip light will skip this step to keep the copper color bare. This affects both brightness and color, especially when the light is installed in an aluminum channel.
You may like:
High-quality Led Ribbon Lights From Leimove Lighting
Has wholesale led lights passed the QC test?
Find 12v Led Spotlight, High-quality Led Spot Light From Leimove Lighting
How about led spot light after-sales service?