LED track lighting is now the most popular choice for home lighting, especially kitchen lighting. In the development of lighting, track lighting is a relatively new concept. Although track lighting was originally used in galleries, museums, and commercial facilities, they are now widely used in homes whether they are luxury dwellings or plain cottages. Track lighting provides a unique way of lighting and adds beauty to any room in the house. And it's competitively priced and easy to install. With the advent of LED technology, LED track lighting fixtures have appeared, bringing more fashionable options and better energy-saving effects. Here are more details to help you to better understand this lighting.
The Components of LED Track Lighting
LED track lighting is a specialized LED lighting fixture, or LED lighting fixture system. The LED track lighting fixtures consist of two main parts. One is the track, and the other is the head, which also can be called as lighting units.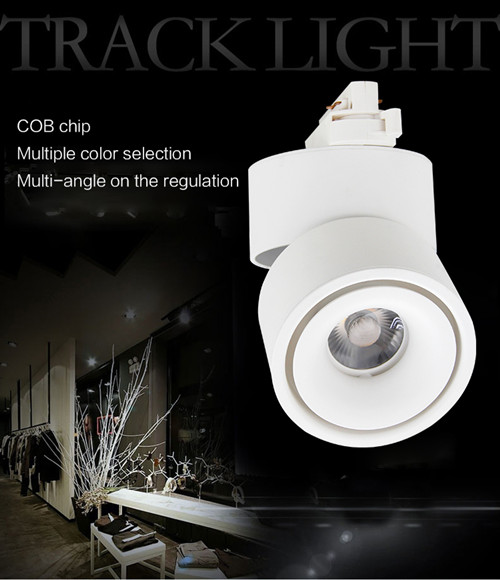 1.Track
The track is a surface-mounted aisle that holds and powers the lighting units in place. It's cross-section looks like a square "U" or a square missing the central part of one side. Two conductive materials - the neutral copper strips and the hot copper strips - are mounted on the insulating material inside the track of LED track lighting. And the two kinds of strips are located on each side respectively. The track is usually mounted on the ceiling, but can also be mounted on walls, beams or ceilings on booms or cables. As for LED track lighting fixtures, power is usually fed into the track from the end ("end-feed" or "live end"), but special adapters can be used to supply power from anywhere in the channel. There are also adapters available for various track layout configurations. Corners ("L") and branches ("T") are the most common for LED track lighting. In general, the various track assemblies are only compatible in a given product line, which means that company A' parts will not work for company B's tracks.
Like most home lighting, there are two line-voltage and low-voltage power supply systems for LED track lighting fixtures when they are used in houses. The line-voltage system uses standard wires and currents in the home to provide 120 volts for the fixture. These popular types of track lighting devices tend to use spotlight bulbs and floodlight bulbs and have the largest fixtures. The low-voltage systems have a small built-in transformer that reduces the current to 12 volts, allowing the fixture to use a wide variety of smaller light bulbs but has the same brightness. The LED track lighting powered by low-voltage system has longer service life; the lamps can last 10,000 to 100,000 hours.
2.Head
A wide range of LED lamps in diverse sizes and colors are used for LED track lighting fixtures. Heads are designed and built to hold the lamps. Each head has a piece with two metal lugs that connect it to a power source inside the track. These parts also lock the head on the track and hold it in place. There are many kinds of heads available for LED track lighting. The most commonly used ones are canisters and pendant fixtures. The canisters are often used to hold a reflector flood light bulb, which is excellent to project light where it is needed. The pendant fixtures come in many different colors and shapes. Most of pendant fixtures hold a single light bulb inside an open shade, but some take more than one light bulb - like a mini-chandelier.
The Use of LED Track Lighting
LED track lighting fixtures are as easy to install in one configuration as they are in another. So, they are often used to cast light on odd corners and critical workstations in the kitchen. A section with canister heads can be equipped with LED bulbs to run on areas where people walk and stand. And the canister heads can be installed flexibly to provide over-the-shoulder light on counters and appliances. These tips can also work well for LED track lighting in the workshop, potting shed or greenhouse.
Track lighting systems can also easily bring light to narrow places, such as corridors. When a wall hangs photos or artwork on, maybe three or four feet away from the wall, LED track lighting fixtures can be run to highlight each piece on the wall. With their built-in flexibility, the fixtures can change the lighting as the items change.
There is one clever trick or effect that LED track lighting can produce: when it is installed in the bathroom. It can reflect off the vanity mirror to light the face of whoever is standing there.
Track lighting fixtures are considered to be better than recessed lighting fixtures when it comes to installing lighting fixtures in a room, especially LED track lighting fixtures. Recessed lighting fixtures are relatively inexpensive, but if several of them are needed, prices will start to rise. In addition, it is not an easy job to maintain and remove recessed lights. Once they are there, they are firmly there. Removing or relocating embedded fixtures and repairing wiring and holes in the ceiling can cost the same or more than the original installation. Relatively speaking, LED track lighting is more flexible, more invasive, and easier to remove and repair traces. Recessed fixtures may be exactly what people want and need for large spaces with a lot of activity, but in other small areas, LED track lighting fixtures may be the first choice.

The above is some basic details about the flexible LED track lights. If you want to get more information or need experts to help you select the most suitable fixture for your business, please feel free to contact us. Our experts are always at your service!
You may like:

Find High Quality Dimmable Led Track Lighting On Leimove Lighting
High Cri 30w Commercial Dimmable Led Track Lighting Fixture Lm-tg9013
A Beneficial Lighting Solution: Using COB LED Track Light
Recessed Ultra Slim Led Downlight Lm8036
High-quality Led Ribbon Lights From Leimove Lighting
High-quality Led Ceiling Tube Lights From Leimove Lighting
Find Led Flat Panel Ceiling Lights From Leimove Lighting