As a part of interior lighting design, the switch and socket are often overlooked. When selecting sockets and switches, raw materials, functions, finishes, and safety will all play an important role in your decision. Not only do they need to work safely and well, they should also be in line with the style of their surroundings. Wondering about the details? Here are some keys to help you choose the best modern electrical switches and sockets for home.

Raw Materials of Switch and Socket
When choosing modern electrical switches and sockets, the first thing you should consider is what raw materials are used for the switch and socket. On one hand, the quality of raw materials determines the finished products. The better raw materials used, the higher-quality and more durable switches and sockets made. On the other hand, you should know that all electrical products must be RoHS compliant. This means the raw materials used for switches and sockets also have to comply with RoHS standards. So the best switches and sockets are those which are made from high-quality, durable, and RoHS-compliant raw materials. In addition, Leimove focuses on product quality but also cares for the environment. Leimove only puts quality-assured and eco-friendly raw materials into the production of switch and socket.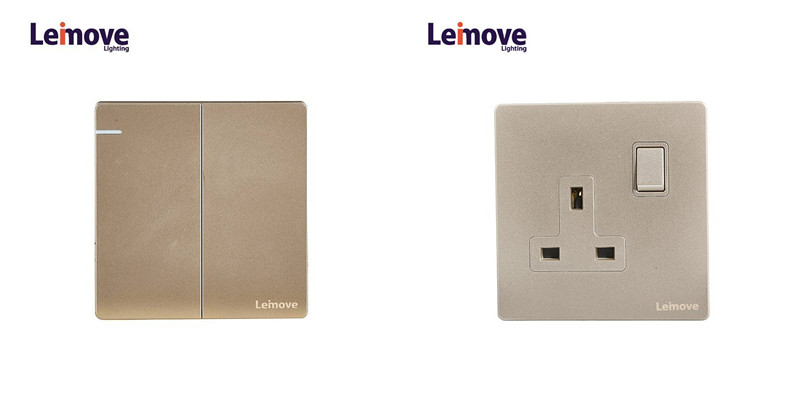 Functionality of Switch and Socket
There are different types of modern electrical switches and sockets on the market to choose from. The most common types in the home are rocker switches, toggle switches and dimmer switches. When planning a lighting project, one should consider the type of lighting required for each room. If the changeable brightness is needed (depending on the time of day and the tasks performed), a dimmer switch may be the smart choice. However, if using an LED bulb, make sure that the bulb is dimmable and that the dimmer is compatible with the LEDs. A trailing dimmer switch is the best choice because it is compatible with most types of bulbs and is particularly suitable for energy-efficient LEDs. In short, different lighting systems require different functions of switch and socket. When choosing modern electrical switches and sockets on the market, don't ignore it.
Finish of Switch and Socket
The matching finish and decor is also important. A wise decision is to pick and choose the electrical switches and sockets that complement home's colour scheme and fitting designs. Because the finish of switches and sockets may either match or ruin the general style of the room. When choosing modern electrical switches and sockets for home, make sure that an appropriate finish of switch and socket is selected for not only the style of the room (modern, traditional, period, and so on) but also other fittings, for example, the taps. For contemporary kitchens with black appliances, black nickel switches and sockets might produce a very stylish look. Both classic brass and the milder brushed brass finish function nicely from the period of time, rustic or contemporary interiors. Brushed chrome works well in modern style settings in addition to classic or industrial, but the glistening chrome finish usually suits most topics. Polished switch and socket, though, can make a mirror-like a result and will show finger marks far more than brushed finishes. The choice of type of modern electrical switches and sockets depends on the function. However, the choice of finish, despite being influenced by design trends and principles, often depends on personal preference. The key is to pick a finish that does not ruin the overall look of the room.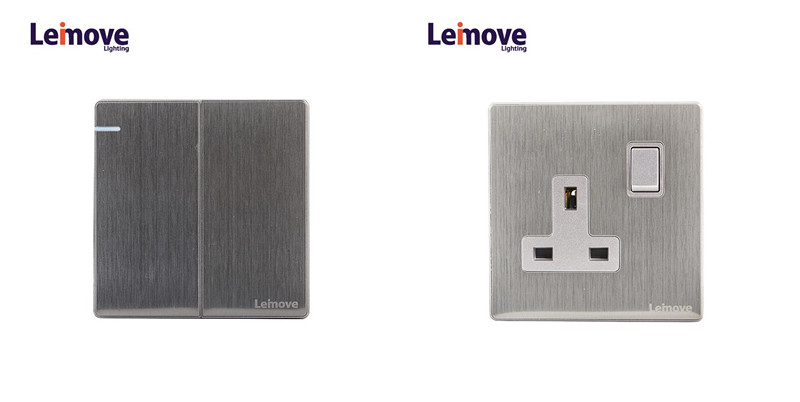 Safety of Switch and Socket
Safety is a major concern for households. So it is important to choose the reliable switch and socket to build safe lighting systems. Those reliable and safe switches and sockets are made by professional manufacturers who apply RoHS compliant manufacturing processes. Among those manufacturers, Leimove is the one you can count on. We specialize in the development and production of modern electrical switches and sockets for lighting systems. Our modern electrical switches and sockets are safe to use and can significantly reduce the risk of electrical fires in home.
Repairs and Replacement of Switch and Socket
Replacing a faulty switch and socket can be troublesome. Usually, you need to loosen the entire panel, then remove and replace the faulty switch or socket, and return the panel to its original position. Often, removing a panel can peel off wallpaper or paint around it, making well-designed decorations look dirty. Modern electrical switches and sockets provide a simpler solution. The failed electrical switch can be replaced by a front-loading mechanism without removing the entire board, which can easily disconnect specific switches or sockets on the board. Therefore, choose switches and sockets that are easy to repair and replace.
You may like:
SWITCH & SOCKET - suppliers,wholesale,manufacturers,company
Keys to Choose Modern Electrical Switches and Sockets for Home
Six Benefits Of Switch Socket For Household Use
Find Electrical Switches For Home On Leimove
High-quality 13a Square Foot Socket With Switch And Light Factory