LED flood lights have changed light bulb industry noticeably by improving ways how and what lighting is used for outdoor areas. Now, more and more people prefer to choose LED flood lights to illuminate the gardens, parking lots, and other outdoor places. This passage is aimed to tell you some benefits of the lights and provides some tips to help you distinguish the lights.
How to Distinguish High Quality Outdoor LED Flood Lights?
To reduce cost, some LED lights manufacturers use cheaper materials to produce outdoor LED flood lights. So there are lots of inferior LED flood lights in the market. As an LED wholesaler or LED distributor, how to distinguish high quality outdoor LED flood lights?
1. Check the LED Chip
LED chip is an important part of LED flood lights. A good LED chip has double pure gold lines, while poor-quality chips use single gold line, or cooper gold line or cooper line or cooper aluminum line. And different chip sizes have different qualities. The common sizes are 24x24mil, 30x30mil, 33x33mil, 38x38mil, 40x40mil and 45x45mil. Generally, the larger the size of chips, the better the quality of chips, the longer the service life of outdoor LED flood lights.
In addition, the brackets of high-quality LED chips are made up of purple copper, which performs well in heat conduction. While inferior quality LED chip's brackets usually consist of aluminium or aluminium alloy or other materials. They have very light weight and poor thermal conductivity. Thus, high quality LED flood lights are believed to have both good LED chips and brackets.
2. Check the Housing
Measuring weight, thickness, and heat sinks is one of the best ways to evaluate the quality of LED flood lights. The high-quality LED flood lights use die-cast aluminum body or 1070 aluminum body. While low-quality LED flood lights use an iron body, which has poor thermal and radiation properties. And the fact you need to know is that, for 100W LED flood lights and those over 100W, bigger heat sinks are indispensable.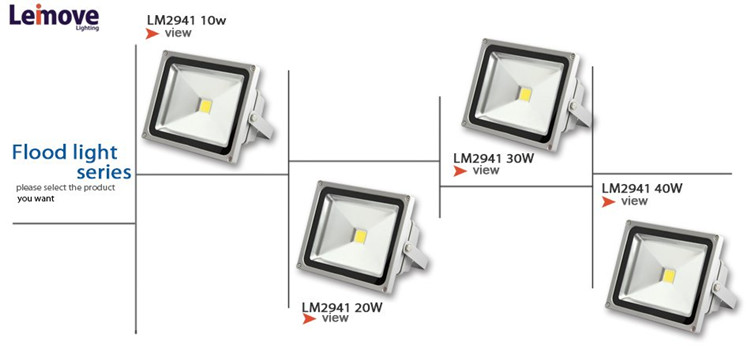 3. Check the Rubber
High quality outdoor LED flood lights are water-proof. Since outdoor LED flood lights are exposed to water, bad weather, etc., their IP rate must reach IP65 to ensure the safety. The rubbers are the key part. It is necessary to check the rubber whether intact or not.
4. Check the Inside Driver
(1) Check the brand and power of MOS.
(2) Check whether the ground wire is fixed in the lights.
(3) Check whether the driver solution is stable.
If you don't understand the solution and MOS, check if there are enough components on the driver of outdoor LED flood lights.
How Beneficial are High Quality Outdoor LED Flood Lights?
1. The Lights Offer Better Visual Presentation
High quality outdoor LED flood lights can produce white light with the same brightness as daylight. So, they are more suitable than standard lights for such places where there is insufficient light. This proper lighting helps illuminate streets, and sidewalks, and parking lots, while making people around feel safe. Similarly, the white light beam of the outdoor LED flood lights creates a modern and attractive appearance for the environment, making its best features stand out even at night. Additionally, there are two kinds of white light available for different occasions. One is Cool White, which is better suitable for sporting or working areas. Another is Warm White, which is best used in entertainment or leisure venues that require a soft atmosphere. Another advantage is that people can easily control the intensity of outdoor LED flood lights to meet the brightness they want. This is because LED floodlights are semiconductor devices and can transition smoothly from 100% to a minimum of 10%.
2. The Lights are Energy Saving.
High quality outdoor LED flood lights are excellent for energy efficiency. These lights consume less power than fluorescent lamps, halogen lamps and other various light sources. Therefore, they are best suited to illuminate outdoor areas intended for industrial or commercial purposes. They can bring the brightness needed for outdoor areas while guaranteeing great energy savings.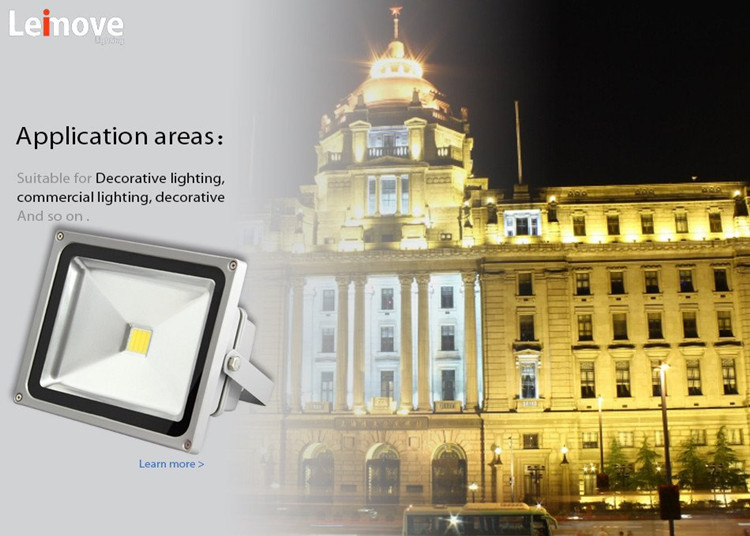 3. The Lights are Recyclable
Outdoor LED flood lights need to be stationed at certain angles for the best lighting. This means that more than one may be used at strategic locations. And when they, especially high quality outdoor LED flood lights, have outlived their lifespan, they can be recycled into other products. Therefore, once they burn out, they can serve other uses because they don't contain mercury and any other harmful chemicals.
4.The Lights can Operate in Cold & Hot Temperatures
The lights used outdoors should always maintain normal brightness in cold or hot temperatures. Outdoor LED floodlights meet the requirements because their brightness is scarcely affected by temperature and environmental conditions. A temperature dropping from 25°C to -5°C will only reduce the efficiency of LEDs by 5%, so it is less likely that LED flood lights will not work due to temperature changes, let alone those high quality outdoor LED flood lights. For example, fluorescent lamps tend to produce less when in cold environment and may require higher voltages to start emitting light when the temperature drops.
5. The Lights are Free of Heat, Noise, IR & UV Emissions
Outdoor LED flood lights generate less heat because they use most of the energy obtained to emit light. In contrast, incandescent lamps consume only 10% of the power consumed to produce visible light, while the other 90% are emitted as noise, heat, ultraviolet and infrared radiation. For example, the area where incandescent lamps are installed, due to much heat being dissipated into the surrounding air, occasionally needs to be cooled to make it beneficial to people around the area. On the other hand, high quality outdoor LED flood lights generate less heat, which is conducive to the reduction of electrical and fire accidents.
6. The Lights are Flexible for Diverse Projects
Outdoor LED flood lights come in diverse forms, including wall-mounted fixtures, motion sensor security lights, street lighting, and so on. In view of this, there are no restrictions to find the right lights for almost all of outdoor area. And manufacturers can customize LED flood lights and develop personalized solutions to specific outdoor lighting needs.
Here at Leimove, there are a wide range of affordable and high quality outdoor LED flood lights available for your choice. If you have any question or needs, please feel free to contact us.